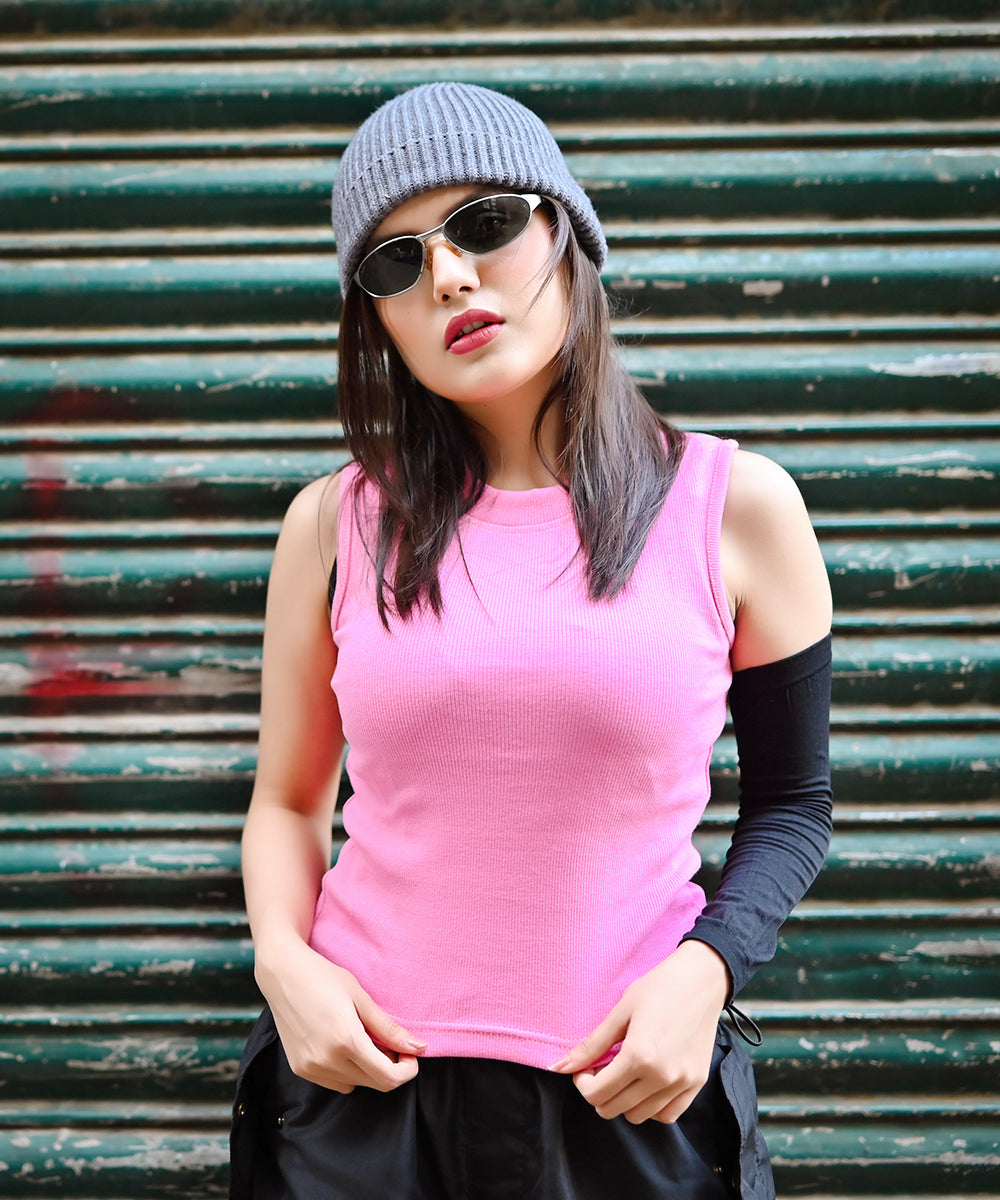 Blushing Petal Ribbed Pink Sleeveless Tank Top
Rs.1,079.00
Regular price
Rs.1,799.00
Subscription • Save
Check first, pay later option available.
Colors may vary slightly depending on your screen brightness.
Description
Introducing our "Blushing Petal Ribbed Sleeveless Tank Top," a delightful combination of feminine charm and comfortable style. This sleeveless tank top is crafted from a luxurious 2x1 rib made up of organic cotton, providing a soft and cozy feel against your skin while offering a flattering and figure-hugging fit.
Model Wearing:
Model Height: 5'3
Model wearing size: XS


Features:
- 2x1 Rib: The tank top is constructed with a 2x1 rib fabric, adding texture and depth to the design while ensuring a stretchy and flexible garment that moves with you.
- Sleeveless Design: The sleeveless style allows for unrestricted movement and offers a light and breezy feel, making it ideal for warm weather or layering under your favorite outerwear.
- Organic Cotton: We prioritize sustainability by utilizing organic cotton for this tank top. Organic cotton is grown without the use of harmful chemicals, making it a more environmentally friendly choice for conscious individuals.
Color:
The "Blushing Petal Ribbed Sleeveless Tank Top" is available in a lovely shade of pink. This soft and delicate color exudes femininity and adds a touch of elegance to your ensemble, making it a perfect choice for embracing your feminine side.
Versatile Styling:
This ribbed sleeveless tank top is incredibly versatile and can be styled in numerous ways. Pair it with jeans and sandals for a casual and chic look, or tuck it into a skirt and add heels for a more dressed-up and sophisticated outfit. Layer it under a blazer or cardigan for a polished and trendy ensemble.
Comfort and Fit:
The ribbed fabric offers a comfortable stretch, allowing the tank top to contour to your body shape. The figure-hugging fit accentuates your curves while providing ease of movement and a flattering silhouette.
Sustainability:
We are committed to making environmentally conscious choices. By utilizing organic cotton for this tank top, we support sustainable farming practices and reduce the ecological impact of the fashion industry.
Care Instructions:
To keep your "Blushing Petal Ribbed Sleeveless Tank Top" looking its best, we recommend machine washing it with similar colors on a gentle cycle. Use mild detergent and avoid bleach. Lay flat to dry or tumble dry on low heat. Iron at a low temperature if needed.
Size Range:
We offer a wide range of sizes to accommodate different body types. Please refer to our size chart to find the perfect fit for you.
Experience the comfort and elegance of our "Blushing Petal Ribbed Sleeveless Tank Top." Crafted with organic cotton and featuring a flattering ribbed texture, this tank top will become your new favorite for both casual and dressier occasions. Embrace the gentle pink color and let it add a touch of femininity to your outfits. With its versatile design and sustainable materials, this tank top offers both style and peace of mind.
Blushing Petal Ribbed Pink Sleeveless Tank Top
Rs.1,079.00
Regular price
Rs.1,799.00