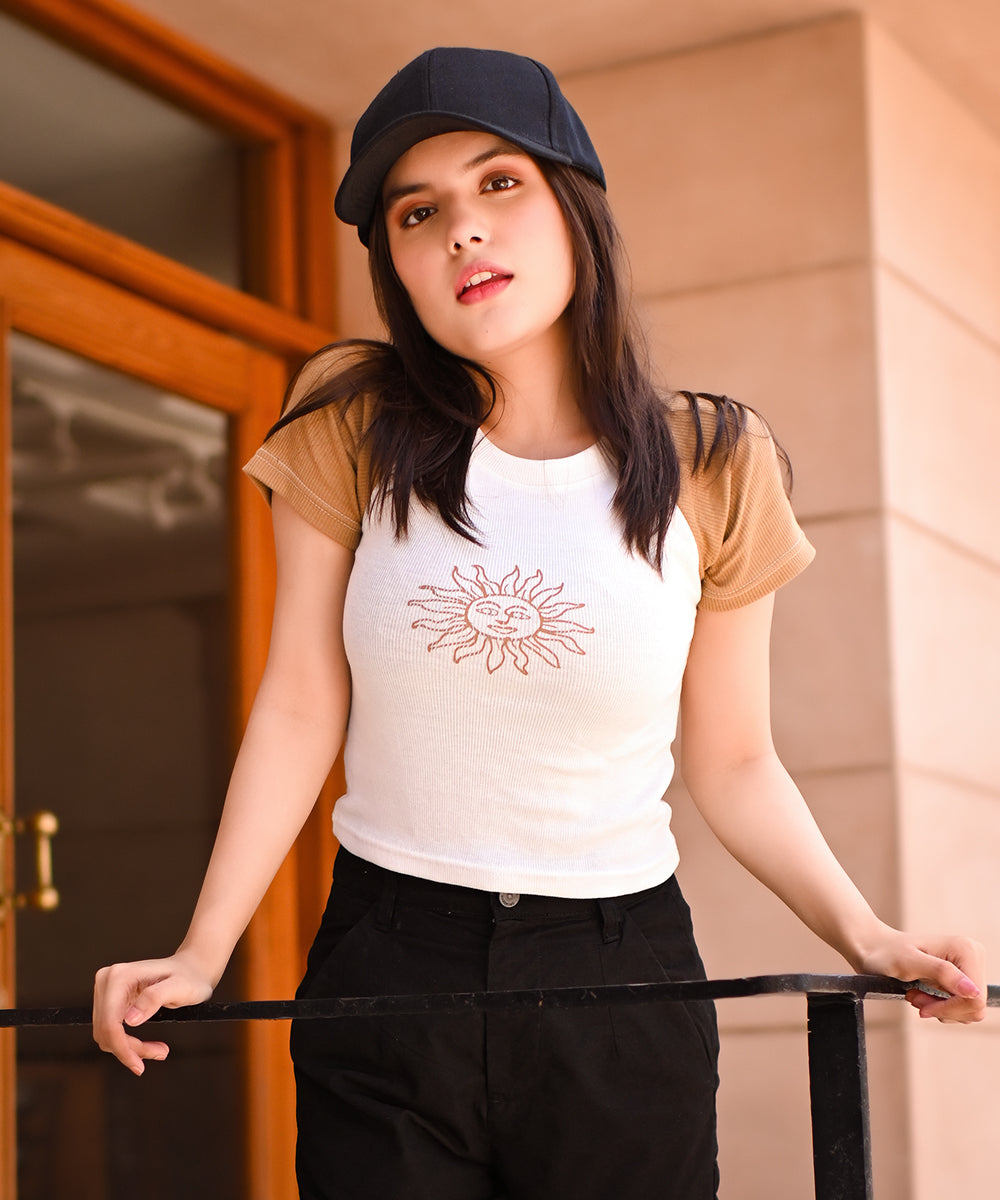 Cozy Chic White & Brown Ribbed Raglan Crop Top
Check first, pay later option available.
Fast shipping with estimated delivery times of 1-3 days in Karachi and 4-6 days for the rest of Pakistan.
Colors may vary slightly depending on your screen brightness.
Description
Introducing our "Cozy Chic Ribbed Raglan Crop Top," a stylish and comfortable piece that combines the cozy feel of ribbed fabric with the trendy raglan sleeve design. Crafted from a luxurious ribbed fabric made of organic cotton, this crop top offers a flattering and fashion-forward fit.
Model Wearing:
Model Height: 5'3
Model wearing size: XS
Features:
- Ribbed Fabric: The crop top is constructed with ribbed fabric, which adds texture and depth to the design while providing a stretchy and form-fitting garment that hugs your curves.
- Raglan Sleeves: The raglan sleeve design offers a stylish twist to the traditional crop top silhouette. The contrast color sleeves add visual interest and create a sporty and relaxed look.
- Organic Cotton: We prioritize sustainability by utilizing organic cotton for this crop top. Organic cotton is grown without the use of harmful chemicals, making it a more environmentally friendly choice for conscious individuals.
Color:
The "Cozy Chic Ribbed Raglan Crop Top" is available in a combination of brown and white. The brown color brings warmth and earthiness, while the white color adds freshness and contrast. This color combination creates a chic and versatile look that can be easily paired with different bottoms and accessories.
Crop Length:
Designed to hit at the midriff, this crop top offers a trendy and flattering silhouette. The cropped length allows you to showcase your personal style and pair it with high-waisted jeans, skirts, or shorts for a fashion-forward ensemble.
Comfort and Fit:
The ribbed fabric provides a comfortable stretch, allowing the crop top to conform to your body shape. The fitted design highlights your curves while providing ease of movement and a stylish silhouette.
Versatile Styling:
The "Cozy Chic Ribbed Raglan Crop Top" can be styled in various ways to suit your personal style. Pair it with high-waisted jeans and sneakers for a casual and relaxed look, or dress it up with a skirt and heels for a chic and stylish outfit.
Sustainability:
We are committed to making environmentally conscious choices. By utilizing organic cotton for this crop top, we support sustainable farming practices and reduce the ecological impact of the fashion industry.
Care Instructions:
To keep your "Cozy Chic Ribbed Raglan Crop Top" looking its best, we recommend machine washing it with similar colors on a gentle cycle. Use mild detergent and avoid bleach. Lay flat to dry or tumble dry on low heat. Iron at a low temperature if needed.
Size Range:
We offer a wide range of sizes to accommodate different body types. Please refer to our size chart to find the perfect fit for you.
Experience comfort and style with our "Cozy Chic Ribbed Raglan Crop Top." Crafted with organic cotton and featuring a trendy raglan sleeve design, this crop top combines fashion and comfort effortlessly. The brown and white color combination adds a touch of sophistication and versatility to your wardrobe. With its sustainable materials and flattering fit, this crop top embodies the perfect blend of cozy and chic.
Cozy Chic White & Brown Ribbed Raglan Crop Top