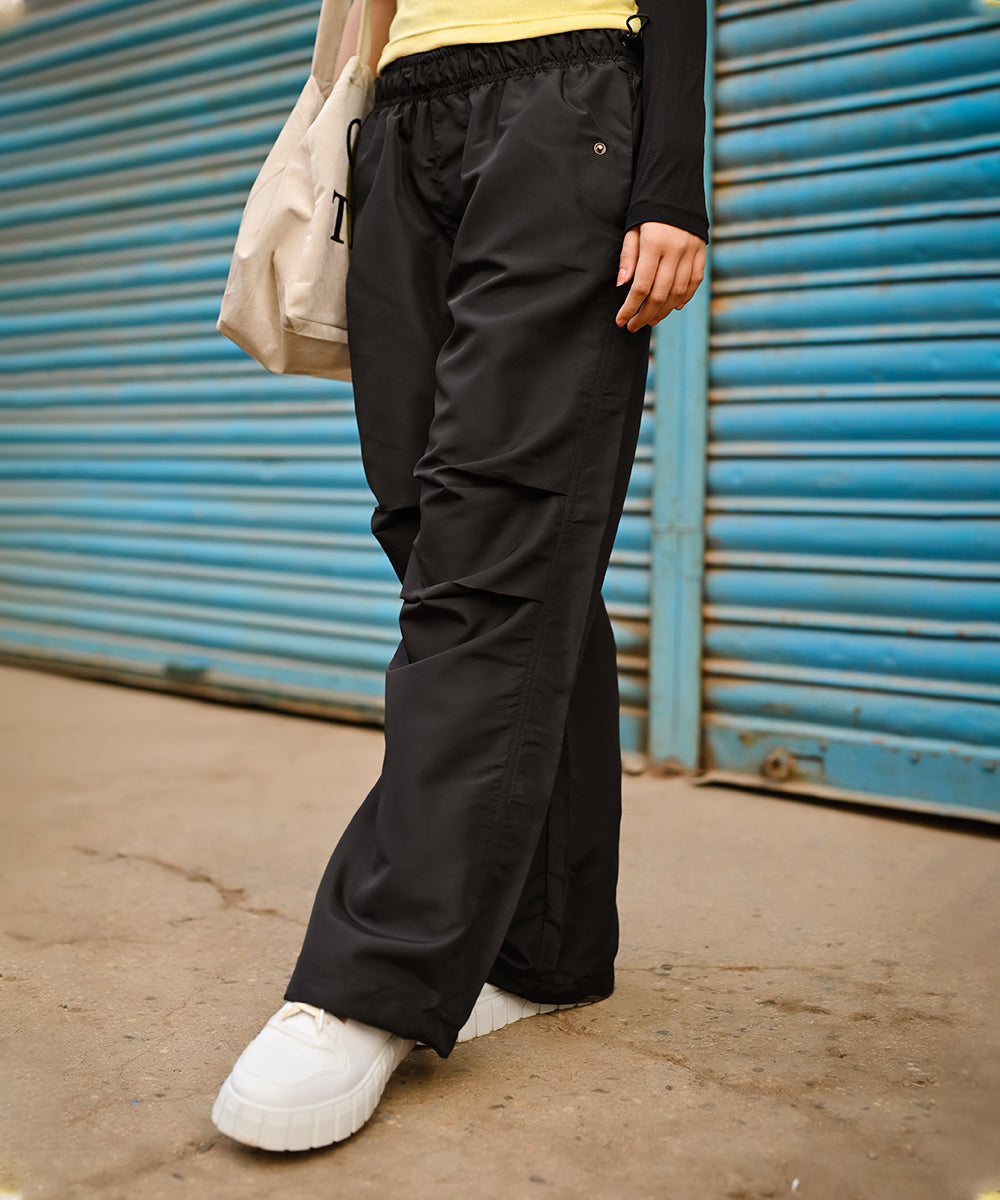 UNISEX Shadowed Night Black Parachute Cargo Pants | Woman
Check first, pay later option available.
Fast shipping with estimated delivery times of 1-3 days in Karachi and 4-6 days for the rest of Pakistan.
Colors may vary slightly depending on your screen brightness.
Description
Step into the realm of mystery and style with our "Shadowed Night Cargo Pants." These Soft Stretch Woven Parachute Pants are designed with an oversized baggy fit, offering a relaxed and effortlessly cool look for individuals of all genders. Crafted from high-quality Parachute Polyester fabric, these pants provide a lightweight and breathable feel, ensuring maximum comfort while adding a touch of edgy sophistication to your wardrobe.
Model Wearing: 
Model Height: 5'3" 
Model Wearing Size: 26
Features:
- Soft Stretch Woven Parachute Pants: The fabric is specially woven to provide a soft and comfortable feel against the skin, allowing for ease of movement and flexibility.
- Adjustable Bungee Cord at Leg Opening: The leg openings feature an adjustable bungee cord, allowing you to customize the fit and style of the pants according to your preference.
- Oversized Baggy Fit: These cargo pants are intentionally designed with an oversized baggy fit, providing a relaxed and laid-back look that is on-trend and effortlessly cool.
- Fabric Composition: The pants are made from a blend of Recycled Polyester (88%) and Spandex (12%), combining durability with stretch for added comfort and flexibility.
Color:
The "Shadowed Night Cargo Pants" come in a timeless shade of black. This versatile color adds a touch of sophistication and pairs effortlessly with a variety of tops, making it a staple piece in your wardrobe.
Functionality:
With their cargo-style design, these pants offer ample storage space for your essentials. Multiple pockets, including side cargo pockets and back pockets, provide convenient storage options without compromising the overall style.
Unisex Design:
The "Shadowed Night Cargo Pants" are designed to be worn by individuals of all genders. Their unisex appeal ensures that everyone can enjoy the comfort and style they offer, making them a versatile choice for any wardrobe.
Versatile Styling:
These cargo pants can be styled in numerous ways to suit your personal taste and occasion. Pair them with a graphic t-shirt and sneakers for a casual and urban-inspired look, or dress them up with a blouse and heels for a sleek and fashion-forward ensemble.
Quality Craftsmanship:
We prioritize quality in every aspect of our products. From the fabric selection to the stitching, we ensure that you receive cargo pants that are built to last. The attention to detail and durability make these pants a reliable and long-lasting addition to your collection.
Size Range:
We offer a wide range of sizes to accommodate various body types. Please refer to our size chart to find the perfect fit for you.
Embrace the allure of the night with our "Shadowed Night Cargo Pants." Designed with a soft stretch woven fabric, adjustable bungee cord at the leg opening, and a functional cargo-style design, these pants combine comfort, functionality, and an edgy aesthetic. Whether you're exploring the city streets or aiming for a sleek and stylish look, these black cargo pants will add an element of sophistication to your outfit, making them a versatile and essential piece in your wardrobe.
UNISEX Shadowed Night Black Parachute Cargo Pants | Woman